Congress General Information
01
Dates:
Venue:
Suzhou International Expo Centre (SIEC)
688 E. Suzhou Avenue, Suzhou Industrial Park, Jiangsu Province, China
Language:
Chinese is the official language. (Every speaker is requested to prepare his/her slides in both
English and Chinese.)
English is the official language of the COS-AAO Chapter in China Forum, and simultaneous
translation from English to Chinese will be provided.
Speaker Ready Room:
Room A101, 1/F, Hall A, SIEC
02 Congress Service
VIP Lounge:Room A111,1/F, Room A219, 2/F, Room A307, 3/F, Hall A, SIEC
Photo Show: Foyer, Hall B1, 1/F, SIEC
Poster Area: Hall D1, SIEC
E-Poster Area: Foyer,3/F, Hall A, SIEC
PPT Review Station:1/F, Hall A, SIEC

03 Lunch
After you register to the Conference, you may claim the lunch coupons from Sept. 5-8, 2019.
Venue of Lunch Box Pickup
Date

Lunch (12:00-12:30)

Sept. 5-6

Outside the Entrance to Meeting Rooms of Satellite Symposia

Sept.

7-8

Outside the Entrance t

o Meeting Rooms
04 Shuttle Bus Information
The congress will provide shuttle bus service between the following hotels and SIEC: BOOEIN HOTEL, Mei Cheng Hotel, Genway International Hotel, Howard Johnson Jinghope Serviced Residence Suzhou, Crowne Plaza Suzhou, Hilton Suzhou, Courtyard By Marriott Suzhou, Renaissance Suzhou Hotel, Holiday Inn Express Suzhou Industrial Park, Scholars Hotel (Suzhou Yuanqu Huxi), Suzhou K-LAND SUITE HOTEL, Grand Metropark Hotel Suzhou, Scholars Hotel (Suzhou Industrial Park Jinji Lake) , Worldhotel Grand Dushu; Lake Suzhou, Kempinski Hotel Suzhou, Wyndham Garden Suzhou, Garden Hotel Suzhou, Nanlin Hotel, Latinum Hanjue Hotel, Grand Trustel Aster Suzhou and Gathering Hotel.

Shuttle Bus Schedule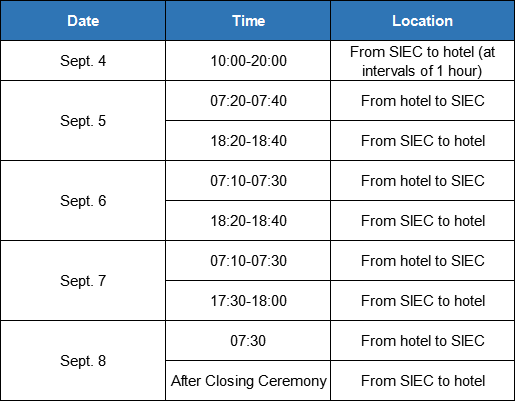 05 Badge
Please wear your Conference badge for entry into venue, scientific sessions and social events. Re-issuing of delegate badges will be available at the Registration. Badges are nontransferable. An administration fee of RMB200 may be incurred for re-issuing a delegate badge.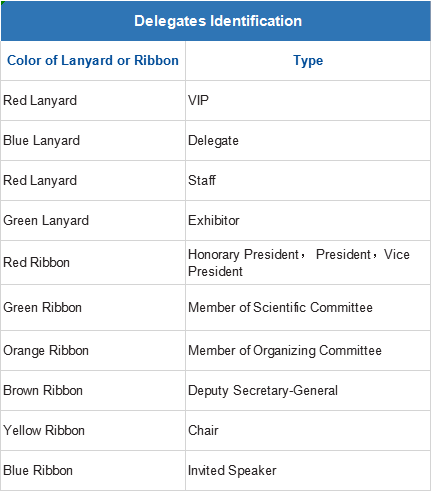 06 Speaker Ready Room
Venue: Room A101, 1/F, Hall A, SIEC
Opening Hours:
Sept. 4 14:00-18:00
Sept. 5-6 07:30-18:30
Sept. 7 07:30-17:30
Sept. 8 07:30-10:00

07 Scientific Session Information
1.Guidelines for Moderators
Moderators should be present 10 minutes before their session starting and it is also important to ensure that speakers adhere to the time allotted to each speaker.
2.Guidelines for Invited Speakers/Free Paper Presenters
Speakers should submit their PowerPoint slides to Congress Speaker Ready Room at least 3 hours prior to their scheduled presentations in order to allow verification and transfer to the conference center's system. If your travel plans allow, we recommend that you check your presentation in the Speaker Ready Room, the day before your talk. The data you provide (on a USB flash memory drive) will be temporarily stored on the server in the Speaker Preview Room. The organizer will take responsibility for erasing all data after the conference.
Presentation Instructions
- Please note that you are to format the aspect ratio of your PowerPoint slides to 4:3. - Please use the Microsoft PowerPoint 2007 or 2010* (*.ppt) or (*pptx), to guarantee it can be opened successfully on an on-site PC.
- We recommend you to save your PowerPoint presentation using PPT(X) format instead of PPS.
- Please note that we cannot guarantee the quality of Macintosh-based presentations; please check in advance their Windows compatibility.
- JPG images are the preferred file format for inserted images. GIF, TIF or BMP formats will be accepted as well.
- Movies: Please take steps to compress your videos (Less than 500M). Uncompressed videos will take longer to upload and will not be better quality than a modern MPEG-4 codec. We can only accept movies created as MPGs, WMVs or AVI formats. If you cannot convert the files or have a considerable number of MOV files, please check with a technician in the Speaker Ready Room who can make arrangements to convert the videos for you.
3.Considerations for Mac Users
Please bring your MacBook to the Speaker Ready Room one day prior to your arranged presentation to have a discussion with technician on-site since keynote cannot be played on Windows.